2009 Fixtures, Results And Reports
Flyers - Division 1 : 8-6. Tied for second place. latest Final Standings
Cup Plate Beaten finalists in Plate competition. latest
Blitzes - Won Bowl competition at IOST.
Flyers League Season - ISA Division 1
Week 1.
22 Apr 09. Flyers 14 - 21 Shutout 7 Marlay (5 innings)
ALSAA, 7pm. Att: more kids than Flyers.
SOut7M 3.5.3.8.2.x.x
Flyers 8.3.1.1.1.x.x
Clayton has discovered that experiment number 99 is normally found in ALSAA at this time of the year so arrives up seeking to destroy her again. However, she is safe in Hawaii causing mayhem over there with experiment 70plus Uncle Jack, aunty Tess, and the rest of her 'ohana.
So Clayton must Lilo and wait while he picks another victim. Then he spots her – the ALSAA food girl. He doesn't just want victory chips. Where's the challenge in that? He asks for ... chicken goujons. When she repliess – 'with rice or just chips?' he's stunned for a moment. He tries again to show her who's boss. 'Do you do, like, nuggets?' 'Yes we do' Ok can I have 2 baskets, 1 with sausages? 'Yes, 2 sausages? ' 'No just 1.' 'And 2 currys? ' This is not going to plan, the ALSAA girl is giving as good as she's getting. Clayton is a bit dazed, and both are confused. 'No curry'. She goes off to check the chicken situation while Clayton wonders how he's lost the first round.
She comes back. Yes they have nuggets. Clayton wants them. She writes it down, and confirms '.. and a curry with no rice and sausages and chips?' OK lady, no more nice guy, I'm hungry and you are gonna get my order right. 'No curry, cancel the curry, just the goujons - the nuggets, and chips.' 'And sausages? ' 'Yes sausages. Sausages and chips and nuggets and chips.' More sighing, more scribbling out, more writing down. 'OK, I get'.
Everybody's happy now, great, chillax. He could have left it there but Clayton won't let it go. 'And a coke' he goes shaking a glass of ice at her. Goodnight sports fans, this one is over. The food girl wonders is this a Stitch-up and can barely manage a 'I do only food' before she slinks away.
Clayton the big Kahuna rides the wave of victory again, and he's not going to apologise this time.
Debutants of the day: French Fanny (who Sichul thinks has a funny name) and Shane in a BoSox 07 Seaimpíní tee-shirt, yours for 14.99 from newburycomics. Also Ann Murphy makes a welcome comeback appearance.
DDM: With 8 runs scored in the first and Shutout Marlay finding outs hard to come by we think Division 1 is easy and start to worry if we will get thru five innings of this pitching tonight without a little help from us.
DDM2: Marlay bat top of fifth. We get the third out. 'Ball game' cries the blue, 'it's too dark to play on'. It's pointed out that Flyers are home and behind so need to bat out to complete the fifth inning and make it an official game. This makes the umpire's eyes open wider meaning it's bright enough now for him to continue.
Week 2.
29 Apr 09. Flyers 11 - 6 Dublin Bay Packers
ALSAA, 7pm.
Softball is 90.3% losing and 9.6% winning. Sun Tzu said softball was 99% internal preparedness plus 1% inspiration. Not so. Whoever (probably softball analyst Ian Clarke) said softball was 99% hard work and 1% amphetamines doesn't have a clue. "Softball is 99% keeping dry and warm and 1% jumping in muddy puddles" was the pre-game advice yesterday as a mostly green clad Flyers gave this softball game one more shot, despite the conditions. With Ebbsie playing away Betty took charge of sorting out a team. He discovered softball is 99% guesswork and 1% putting Lee in the batting line-up twice.
Flyers take the field. You know, softball is 99% hoping the kids aren't peeing themselves, falling in nettles or hitting another kid with a bat and 1% what happens on the field. Flyers take a small but important lead despite not having learned that softball is 99% knowing the rules and 1% sending Mary on another suicide run. Flyers keep their small but important lead through 4 innings. Softball is 99% hoping the blue will call the game for light when you're winning and 1% picking off a unforced runner from third to keep the lead.
Actually it's 99% playing on after getting studs above your shinguards tagging said runner and 0% crying like a baby. Playing 6 and 3 against 5 and 5 softball can be 99% knowing when to sub in Burnsie ahead of the auto-out to clear the bases and 1% forgetting when the auto-out is. With a small but important lead to preserve Flyers infield play like softball is 99% perspicacity and 1% keeping it simple.
Bottom of six we score 4, top of seven we get the three outs and have a not-that-small-anymore but very welcome and important 5 run victory. Softball is 99% nights like this and 1% the last 2 years. Flyers are very, very happy. This is better. This softball, it's 99% about beer and victory chips and 1% about playing.
DDM: Betty is batting and has a 3-1 count. Next pitch comes in high and outside. Betty swings across the plate. 'Well done, you want to hit', said the blue. 'Well a walk is no good to me with 2 outs and the auto-out coming up' is Betty's reasoning. Confused blue checks his clicker. The on-deck batter informs Betty the auto-out was before him, and it was the first out.
Shape Shifter: Shane decides he'll hit lefty to go for the right field swamp. Packermonkey shortstop switches to 2B, guy on 3rd switches to SS, 2B girl switches to 3B. Meanwhile Shane switches to other batters box and belts the pitch down the third base line with Packers gob-smackered.
Week 3.
13 May 09. Usual Suspects 18 - 17 Flyers
Marlay Park, 7pm. Att: 2! In this weather? Yes incredibly. Alacoque, and someone who just had to be cut from the same cloth.
Marihannah Dolana really has the Best of Both Worlds. Gets to play for the Flyers once a year and never has to train. With the cap she wears for disguise none of her family or workmates know that she is Angel, who plays for the Flyers in emergencies. But recently she has been wondering about a few things: who would have thought that a girl like me would double as a superstar?; why on earth am I out here on a cold wet evening to play softball?; where is my glove – I had it for warm up now it's gone?
A tiny little bit more rain and it wouldn't have started. Infield flutes around with a wet slippy ball racking up errors while the old-timer 3-man outfield keep us in the game. A seventh innings rally pushes the Flyers in front long after the bell has rung but we refuse to take the chances to grab an unlikely win.
Marihannah finds her glove after the game is over. The glove is very happy, singing You'll Always Find Your Way Back Home to itself. Marihannah thinks if only I had lost it I'd never have to play again and could go back to being me.
DDM: Pay attention – it's not funny but there's a lesson here. Seventh innings, Flyers have scored 5 and taken the lead with 1 out. Ebbsie's on third, Marion's on second. Shane is up, the Automatic Out is behind him. He hits a fly ball to LF. Ebbsie starts jogging home knowing if it's caught, the auto-out will finish the innings. Staying on 3 and running home after the catch would have scored another run before the auto-out and given us a 2-run lead to keep in the bottom of the last.
Week 4.
20 May 09. Flyers 13 - 9 Base Devils
ALSAA, 7pm.
In explorer Bruce Barry's new series he will spend a week with various softball clubs in Dublin, immersing himself in their culture. In the first week he travels out to north Dublin and at the edge of civilisation will live, train and play with the Flyers.
It's the rainy season here, which lasts from May to August. Tribal elder Beti wanders alone around the fields of ALSAA searching for dry land. He sees a real live green-headed duck sitting in a puddle in right field. The Flyers take all these signs as signs. Beti has learned from generations of Flyers before him that when the duck sits in right-field they must leave and find a new temporary home. They learned it from the ancient Flyer Sun Tzu. After his walkabout Beti returns to his starting point and says the holy ground of the GAA pitch right beside the carpark will do for tonight.
If Sichul had seen him he'd have been sitting in a puddle of Szechuan sauce instead, beside a heap of Yung Chow fried rice (the duck that is, not Beti). At training on Monday when a hare ran across the field I saw him give chase (Sichul that is, not the duck) but the hare got away. And I was told dogs are afraid to come down to games now when he's playing...
I'm really excited tonight. After training in the rain on Monday the Flyers have let me come to their game where they will do battle with a rival tribe of migrating Cavan rounders players called the Base Devils who have a hard-to-read website. They sound dangerous. I'm so excited, and slightly worried. I don't want to let big chief Ebbsie down.
The Flyers gain the upper hand quickly, skillfully able to repeatedly hit the ball off the edge of the Devils' gloves without actually going into the glove. The Devils have one guy who stands like he has an invisible bow and arrow before he hits. The Flyers don't let it distract them. In the middle of the game tonight the Flyers are even able to bring out a softball virgin and sacrifice left-fielder Mary. The Flyers children run around playing now it's a dry and bright evening. When they get bored of distracting a character known as the umpire they head away from the village where they were safe and towards a hostile area known as 'the road'. Some venture too far and suffer the ultimate Flyers shaming, a DDM.
Before my journey to meet them I learned the Flyers have a very important ceremony that in recent years has been celebrated less and less but one the tribal elders are keen to re-introduce this year before the tradition dies out completely. Some modern Flyers have never seen it, which is sad. They call it 'victory chips'. Unfortunately tonight despite the win it can't take place. They said that as their guest they would have very kindly let me be the person who orders and pays for it, and buys the first round. They tell me it is a great honour and I feel so disappointed. I was hoping to repay their hospitality by making my own contribution and adding ketchup to the victory chips basket, which I'm sure would go down well with the tribe...
DDM: Who is your Daddy? Everybody shuts up, and the grownups get scared, when baserunner Adrian stuck on third shouts at his kids to get away from the road. Well we're not going to vote him for coach in anyway next time we sack Ebbsie.
Debutante of the Day: The aptly named Debbie 'Flood' "Warning" plays her first game tonight. And that after just one training session, which was in August 2005. 'You had a really good team then' she recalls of her only previous encounter with the Flyers.
Week 5.
10 Jun 09. Flyers - Slammers
ALSAA, 7pm.
Game called for lightening and rain in bottom of 4th, Flyers leading 8-2.
To be continued.
DDM: All probably due to us giving them Adrian because they needed a player and they are merged with us. He catches two good hits from Cora in RCF and nearly gets Tony tagged out at 3. And leaves his daughter confused as to who to support.

Week 6.
17 Jun 09. Flyers 15 - 8 Diamond Dogs
ALSAA, 7pm. Att. 6
Softball Watch penned by #99: Hello! Bill Oldie here for Softball Watch, where today we're off to discover the local wildlife in ALSAA. An oasis in the middle of busy Dublin Airport, ALSAA is home to a wide variety of wildlife – from rabbits, to packs of dogs, to little hatching flyers. We've had a hot tip that a group of 9 hatchling flyers are about to leave the nest, and face up to the dogs to defend their little patch of ALSAA.
We'll stop here and watch, from behind the many abandoned cars owned by the footballers, which will prevent the flyers and the dogs from leaving ALSAA until 9 p.m. And there they are, on the softball field. The flyers are putting on a brave and gallant display at defending their turf, and coaxing the newest hatchling, Gary, out to go behind the plate to catch. And what a brave little 6' 4" flyer he is. Gary nods at the encouragement from the rest of the infield hatchling flyers - "Look at me", Ben appears to say to him from his perch on 3B, "I can over throw anyone too!" as the ball sails over the head of first base.
The newest female to the clutch – Fan – is really gaining in confidence and is plucking softballs out of the air in right field, to the dismay of the dogs who have yet to score, and it's already the 4th inning. Oh look – we have a pitch invasion now, from the flyer's baby clutch – it appears Sam really needs to tell something to Lee, and so has run out to him in centre field. You just never know what these flyers will do next!
Well, it seems the game is drawing to a close, and the hatchling flyers have finally let the dogs score a few runs, to prevent them from going home with their tails between their legs. Who knew that in the wild, a brood of flyers can defend their patch from a pack of dogs? Tune in next week, when we will watch the hatchling flyers take on a herd of bearcats.
Debutant of the day: Having last appeared in Irish softball playing for the Cyclone Warriors, yes that long ago, Gary makes his first appearance for the Flyers (not THAT Gary – a new Gary!). Bats in 3 runs off a deep CF hit too. And attempts to tunnel under 2B instead of a traditional slide.
Shockstat: Ebbsie and his magic pitching ensure that not one Dog takes a walkie! Even strikes out a few batters!
DDM: Batter no. 8 - Ms. Automatic Out – for leaving people on base every time.
There is victory chips: But with no Flyers around to buy victory chips, Cora accompanies the Dogs to the bar, and eats all of their chips.
Week 7.
24 Jun 09. Castleknock Bearcats 22 - 8 Flyers
Castleknock College, 7pm.
THIS IS IT - the latest release from #99: Another sunny Wednesday evening saw the Flyers planning to Ease On Down The Road to Castleknock to take on the Bearcats. At 2pm a frantic search for a 4th girl ensued, with Fan asking Paola "Will You Be There", and insisting that she get all the praise for saving the team from a walkover, because, as she put it, "The Girl Is Mine".
We were still short a sixth guy or fifth girl. Ben looked at the Man in the Mirror and said The Way You Make Me Feel is not good. Arriving at the ground, Flyers discovered that Shane was missing. "Say, Say, Say," began Tim the blue, "You guys Wanna Be Starting Something. The Bearcats want to Rock With You, where's your 9th player?" "I'll Be There" assured Shane down the phone as Lee said "I'll call out the directions to Shake Your Body Down to The Ground".
Ebbsie's pre-match motivational speech of "hit right field – (Easy As) ABC" got the Flyers off to a Thriller of a start, Sichul and Cora turning 3 double plays to end the first 3 innings. Paola played like a Smooth Criminal, duping the Bearcats into thinking she was a complete rookie until she got up to bat, and ploughed one past 2B to get safely on one. "What do I do now?" she yelled at the rest of her team mates. Lee – first base coach assured her "You Are Not Alone. Just listen to me, run when I tell you to, and Don't Stop 'til You Get Enough." Unfortunately Paola didn't realise that meant she had to stop on the base, and when she ran thru 3B, Lenny almost, almost, tagged her out, before Paola swam back to the base and got called safe.
In the meantime, the Lenny fan club, from the neighbouring GAA practise field arrived and began chanting "I Just Can't Stop Loving You" at Lenny until he told them to Beat It. The game eventually turned against the Flyers, with the Bearcats finding the holes in the 3-man outfield. Commenting afterward, Ebbsie summed up the game in his usual Off The Wall way "It's HIStory now. Why did we lose? Well with that blinding sunlight in the face of the batter, no moon, and the good times of the Celtic Tiger almost over, let's Blame It On The Boogie."
Debutant of the day: Who Is It? Paola for saving us from giving us a walkover. All those games you came out to watch eventually paid off!
DDM: Who's Bad? Batter no. 10 - Ms. Auto Out - for leaving players on base, again, despite us moving her down the order. That's 2 weeks in a row Ms Auto Out – once more and you'll be thrown off the team!
Week 8.
08 Jul 09. Base Devils 9 - 8 Flyers
Eamon Ceannt Park Kimmage, 7pm. Att. 1, Galway Girl.
Does anyone speak Scorebucks? Betty saw some people, not all with laptops, playing a game where they used baseball bats to hit a ball lobbed in gently to them. It looked kinda cool, like sport but a bit more I dunno relaxed? "Can I join in your baseball/rounders game please?" he asked. She rolled her eyes and gave him a withering look. Oh no, maybe she isn't Irish Betty thought. Then said in a strange accent "I must apologise for ridiculing you and making you uncomfortable. But it is called 'DoubleHotCaramelFrappaball'". He blinked. Twice. And rubbed his chin. "But the ball isn't double, or hot or caramel, never mind frappa" Betty argued, "why don't you call it em 'softball'?" She didn't, or probably couldn't, tell him why. He started regretting not going to a normal sport like Insomtagfrisbia. But he was here now so joined the Flyerbucks team.
It was all very confusing at first. Why was that guy called a Triple Tall Vanilla Skimmed Latte-stop when he wasn't triple tall? He was a bit short really; why not call him a shortstop? The Single Grande White Chocolate Mocha-tcher didn't only stop the ball rolling past him down the hill, he caught it the very odd time. So you should call him a caughter, or even dropper, or maybe a Double Venti Dry Cachurino, something normal.
He still shivers when he recalls it, Ebbsie said he could play in the 'with room' if he wanted. Betty looked around but all he could see was a big wide empty outfield. Confused, he said "No thanks" so he got a job making sure the pitcher, sorry, the Double Espresser, had a grande ball sometimes and a venti ball the rest of the time. Except the venti was bigger than the grande! So a grande is not the large ball? Go figure.
Once they'd batted the top of the first innings Flyerbucks went out onto the pitch. Well I said 'top of the first', I should have said 'decaf bold ristretto of the breve macchiato' to be precise. Otherwise most people apparently wouldn't know what I meant. Betty spied an empty comfy chair, where he could sit reading newspapers and magazines, or call out the order. At the next changeover some Flyerbucks thought maybe if they stood around Betty would get up and do the switchy ball thing and they could nab the comfy seat. Not a chance, he'd learned that much pretty quickly. After the rest of the innings they didn't bother standing around waiting, and sat on the high stools or at small tables instead.
You'd think calling out the order would be simple enough for Betty. After the iced of the mocha frappuccino, bottom of the third to you and me, Betty shouts "Ebbsie you're up; Debbie is on deck; Tony in the hole; followed by Ben, and top of the O." Everyone stopped and looked. "Call that out again Betty" Cora cried, "you might as well have shouted out 'triple grande soy mocha latté with legs; iced double venti skinny caramel with-whip macchiato; and tall 7-pump white mocha no-whip for here' for all the sense you're making. And why are you called 'Betty', shouldn't you be called something else?
Flyerbucks are down 8-5 after 4 innings. "You just have to win every inning now", Betty observes. In the fifth Flyers score one, Base Devils score zero. In the sixth Flyers score 1, Base Devils score zero. "I didn't actually mean to do it this way" Betty says too late. In the seventh Flyers score 1, and then overthrow a runner going back to first with 1 out in the seventh. On a good night that might earn a DDM.
DDM: First innings and a sign of things to come... Batter pops one up halfway along the 3B line. It was like someone in a green apron put a paper cup with a lid on it on the ledge and shouted "Extra shot skinny latté". Catcher Ebbsie, Pitcher McGrath, and 3B Brian all hesitate. Did I call for that? Is that mine, or his, or his? Then they all figure well if no-one else seems to want it maybe it IS mine. So then they all go for it together, and Ebbsie grabs it first but spills it. Everyone else in Flyerbucks laughs at them and they all feel stupid.
Umparistas make the strangest calls: "Caught and carried foul, runner take one base". "Runner at third out due to base coach assistance". Help! What do these mean in English?
Week 9.
15 Jul 09. Flyers 20 - 10 Usual Suspects
ALSAA, 7pm.
One win and it goes to our head. Ahead of the official opening of the Flyers Trophy Cabinet Tour we take you behind the scenes to take a sneak preview of some of the exhibits visitors will see on the $9.99 tour starting in August...
Here we are at the trophy cabinet between the door to the bar and the top of the stairs. The first thing to catch your eyes is a lot of blue flags. We won them for lying on a beach, but I want to direct your attention over here to the bottom of the cabinet on the left. This huge trophy we won in America. We had to take it apart going through security. And the trophy opposite it we will see later on the far right-hand side was for putting the huge trophy back together on the flight home in less than one hour using only a penknife, back in the days you could bring your penknives on board. This trophy is Ben 1O'Reilly for when he read his first book back in 1994 and that's Debbie's trophy for learning the bagpipes. All it took was ten years of college.
The next cabinet appears a bit empty but there in the middle is Gary's Invisibility trophy for being the most invisible player. Now move along. In tonight's game Tony showed he's happiest in water and this is the beautiful trophy he won for sailing tall ships into bottles back in 1998. Behind it is his 1992 Windmill Tennis champion award. Shane also showed tonight how much he likes the water, he won this magnificent wooden canoe for South Seas canoe racing. There's a LSL Div 2 R/Up 1995 trophy in there, a IBSA Plate R/Up 1993 one, a 1995 Leinster Co-Ed League Winners medal over here, and something called 2nd Platz Oster Cup Backnang 2005.
This beauty in the middle cabinet on the right is Sichul's – for killing the most tigers with a bowling ball in 2008. The silver plate here was just tonight's victory platter, we'll wash it before the grand opening. Poor Mary didn't even get the chance to put her Monaghan flags on the car this year before they were 'ite hi' but this is her 2008 Ulster Ladies Throwing Chess Pieces trophy. And we all won this one for Mountie Softball in 1994.
Usual Suspects Plate Winners 2001 – who did we rob that from? Above it is our Balancing Golfballs on Your Nose trophy, featuring a blue dolphin. That was some day. This Arch is Ebbsie's Mr Fitness trophy from a long time ago, back when the Arch was built I think. The delicate glass trophies are Allison's Trampoline Monitor of the Year 2009 Prize and Adrian's Falling Back Up the Stairs Instead of Down on Top of the Child You Are Carrying Special Merit Award. The green and red ball we won for volleyball. Now look at the ones on the bottom. This rocket is the 2002 Inter-Planetary Third Place trophy. In the play-off final, held on the moon, at night time so it was bright, we beat the Marlay Martians scoring 7 in the bottom of the last. Lee's winning hit is still travelling though space. Venus spanked Uranus in the Grand Final in a hitting fest. There are two more trophies between the rocket and the big putting-together-the-even-bigger-trophy-in-an-hour trophy – Cora's tea-drinking one and Fan's dog-walking one. Any questions?
That concludes the trophy cabinet section of the Trophy Cabinet tour, if you would like to follow me at this time to the cafeteria and souvenir shop... Leaving ALSAA via the stairs now notice the coffee machine on the right Betty won at last month's Baristas Coffee Make-Off (it's just really pushing a button and wiping a nozzle with a cloth while you're waiting). The phone, we won that too; the gold railing was for fencing; the bay tree was for softball topiary; and the athletics track well we won that for running years and years ago. Over there is the anchor Brian Reed won for diving. We thought we had brought him down to our level but by not coming training he seems to have got his old talent back.
Have I forgotten anything? Oh, yes - Angel showed up tonight and got a trophy. Hope her cousin Paddy does the same at the Open this weekend. Those ladybirds need somewhere to live.
DDM: Whichever Devally girl left her runner on the stairs. And here's a spare one for John Suspect for watching 3 strikes in a row.
It's St Swithin's Day: So we get 40 mores wins like this on sunny evenings? Cool.

Week 10.
22 Jul 09. Dublin Bay Packers 21 - 13 Flyers
a wet Wesley College, 7pm.
We only sing when we're winning. Miserable wet night. Not worth a report. The War of the Words gods put us on Tracy's team with questions like: What X means cross-pollination in plants?; What X is a language of Eastern Cape in South Africa?; What X is a a heavy, colourless, gas?; What X is the woody tissue in a plant that transports water?; What X was a paradise where Kublai Khan lived?; What X is a a gum used as a stabilizer in foods?; while the Packers were on Team Ryan and got What X is a video games console?; What X means Christmas?; What X is the Roman numeral for 10?; What X is a talent show on TV with Simon Cowell?; What X is a warrior princess?; What X is a kiss you put on a birthday card?; What X is a extra-large size on a tee-shirt? What X was a tv program with agents Mulder and Scully chasing aliens?
Far too easy for them, but we didn't complain. Six runs in the top of 6 for us closes the gap to 1 run but they knock in 9 in the bottom. You'd think that would have cheered them up, wouldn't you...
DDM: Eventually one of their girls only manages a weak hit. Ball stops before it even reaches pitcher Betty. Sensing a handy out he puts his glove down to pick it up but comes up em empty handed if that's the right word.
Debutante of the Day: Lisa McG. Now if only English schools gave decent summer holidays Miss Auto-Out would never have got 3 games for us this season.
Week 11.
29 Jul 09. Shutout 7 Marlay 8 - 12 Flyers
a wet Marlay Park, 7pm.
FLY 1.2.4.0.0.3.2
SO7 1.1.1.5.0.0.0
Sixty years ago famed French aviator Briantoine de Saint-Ebbsubery took off from Kildonan Aerodrome in his Hanriot Dupont HD-32 (cn 196/22) bound for Saigon but soon crash-landed in the nearby desert of Collinstown. Miles from civilisation and with only two crates of beer and some Lidalidy biscuits to keep him alive he set about fixing his plane...
"S'il vous plaît, dessine-moi un gant de baseball."
"Huh?!" Ebbsie turned quickly. There stood before him was a red-haired girl smartly dressed in black tracksuit bottoms and a green top. But she didn't look lost. "Are you going to play for us?" he asked. She replied impatiently "Will you dessine-moi un gant de baseball like I asked."
Ebbsie took out a score book and found a pen and drew something that looked more like an elephant been eaten by a snake. "Well you're no Didou", the girl said, "or Louie as you call him here. It kinda looks like a casquette de baseball, not un gant." Ebbsie drew a box. "The glove is in the box. The box was sent by somebody on E-Baysie who sold you the glove. You paid on Paymate. OK?" The girl was happy and smiled.
Over the course of many confusing discussions Ebbsubery slowly discovered that the girl had passed by many planets, stars and asteroids to come to the Flyers. On asteroid B-1422325 there was a geographer and also a businessman who believed softball batting stats were matters of consequence. (Sérieuxly?) There was an unreasonable king who tolerated no disrespect from umpires on planet D-065 and on S-07 there was a drunk girl in a red cap.
The little princess said her planet was very small, so small it didn't have an outfield, just a flower for home plate and three volcanoes for the bases, and she really really wanted to play 3B because that was the extinct one. Ebbsubery had other ideas despite her protests, "But the trees all around the perimeter. The baobob trees, I am afraid of them. We must dig them up or they will take over" she said.
It took half a season but eventually the clever old fox Ebbsuberry taught the girl that it is because it is her rightfield that makes it important, and that only she can care for it by catching flyballs and clearing them back to the infield.
"Voici mon secret" dit Ebbsubery. Il est très simple: on ne voit bien qu'avec le coeur. L'essentiel est invisible pour les yeux. Girlies have forgotten this truth, but you must not forget it. You become responsible, forever, for what you have tamed. You are responsible for your rightfield. Shane will do a job on 3B."
"Je suis responsable de mon champ droit" répéta la 'tite princesse Fan, afin de se souvenir.
DDM: Fourth innings, one of their girls does a weak hit. Ball stops before it even reaches pitcher Betty. Sensing a handy out he puts his glove down to pick it up but comes up em empty handed if that's the right word. Hang on that happened last week too, he's not getting another award. Ok - Fan. Swings and misses first two pitches. Watches third pitch coming in a bit high. Strike 3! Second strike out tonight. Walks away and steps into a big puddle. Maybe she should go back on holiday to see if she left her batting behind.
DDM2: Umpire Stu has never had Ebbsie as catcher before. Next time he'll wear his shinguards.
Off the rails: Excitable young gun Shutout-7ers throw it around a la Flyers and we take a 4-run lead. Leave bases loaded top of 4th and then fall apart in the infield. Sichul misses throw to 2. Ebbsie loses high pop-up right above his head. When Betty does manage to pick it up he overthrows both 3rd and 1st. They score 5 and then we go 3up, 3 down with Betty and Ebbsie 2nd and third out. Shutout young guns get very excitable now and too eager to bat. Top of last, 1 out. Betty and Ebbsie up. Meat of the order. Both hit doubles!! Both ready to collapse. Flyers win by 4. Wouldn't be half as interesting if we all played like Shane and Tony.

Week 5 cntd.
05 Aug 09. Flyers 11 - 9 Slammers
ALSAA, 7pm.
Woofer/flyers
Paola gets to 1B. Game over. Afterwards play hurling, have Flyers picnic, throw Frisbee, fill kids with sweets. Good night had by all. http://tinyurl.com/flywin
9:02 PM Aug 5th from ALSAA
RF Cora backs up and stops OT. Batter Fan doesn't notice and jogs on towards 2. Cora throws to 2B Mary. Mary and Lisa get Fan in rundown. http://tinyurl.com/g06rl5
8:42 PM Aug 5th from ALSAA
We play on for another few innings since it's a sunny bright evening. Should have brought BBQ. FionaMc turns up. Sichul and Lee pitch. http://tinyurl.com/p1cn1c
8:22 PM Aug 5th from ALSAA
@Ebbsie No worries. http://tinyurl.com/phew11
8:09 PM Aug 5th from a safe distance from Scotland
Pop-up by Atif. Catcher Adrian under it. Ball Game. Flyers win!! 11-9 Final http://tinyurl.com/h1ph1p
8:07 PM Aug 5th from a happy place
Sichul nails the throw for 1st out. Start we needed. http://tinyurl.com/2mor0s
8:01 PM Aug 5th from the brink
Another good hit from Allison but no more runs. Flyers 11 Slammers 8 BOT6.
7:58 PM Aug 5th from a lead
@Ebbsie I didn't manage anywhere, I managed to stay alive for 43 and a half years baby. http://tinyurl.com/dunphy
7:57 PM Aug 5th from not Scotland
Lee grounds out to 2B. Sichul scrambles to 2. Safe! Mary gets on, Tony brings them home. Lisa gets on in last game, Adrian draws OT. http://tinyurl.com/s1chv1
7:56 PM Aug 5th from a tunnel with a light at the end of it
@Betty You don't know what you're doing, you don't know what you're talking about. Where did you manage? http://tinyurl.com/50un35
7:48 PM Aug 5th from Ebbsie in Scotland (and Allison in Dublin)
Go-ahead run MLong hits big into CF gap but LOB on 3. Top of O will be bottom of order in 7th, gives us a chance. Flyers 8 Slammers 8 TOP 6. http://tinyurl.com/t13dup
7:47 PM Aug 5th from mobile
RT: @infield: Stop making errors. Outfield makes big catch. Walk with 2 outs, girl takes option of free base. http://tinyurl.com/d4n63r
7:45 PM Aug 5th
Allison hits OF. Betty chokes on Ray's pitches: foul, swing and miss, pop foul. Cora and Ben go down in order. Flyers 8 Slammers 6 BOT 5 http://tinyurl.com/noruns
7:33 PM Aug 5th from a nervous place
Flyers 8 Slammers 6 TOP 5. http://tinyurl.com/batrup
7:28 PM Aug 5th from web
Slammers lead off with HR. Elaine D hits to Ben at 3B who fires it past Cora. MLong hits triple to LF. Sichul overthrows. Slammers score 4. http://tinyurl.com/krp101
7:27 PM Aug 5th from web
Lisa hits to SS who misses the tag but Mary is out at 3. Martin Long to Fan. Boo Fan. No more runs added. Flyers 8 Slammers 2 BOT 4. http://tinyurl.com/sreylf
7:13 PM Aug 5th from mobile web
8-2 up, in BOT 4, we're batting. No way we can lose this. Tony's grounder stops before 3B so he's on. http://tinyurl.com/8u4n5y
7:09 PM Aug 5th from mound
Time to get re-started. The WAGs and kids are here, 7 Slammers, and the blue. No-one told the groundsman we'd be playing. Grass is long. http://tinyurl.com/win6at
7:08 PM Aug 5th from sideline
Slammers pretty screwed for numbers so waiting to see who we can give them. Taking a chance we'll give them Fanny, Paola, and Atif. http://tinyurl.com/5lamr2
6:59 PM Aug 5th from ALSAA
Atif is here, his father used pitch. Is a Pakistani softballer like a Kilkenny footballer, or Kerry hurler, or Brazillian goalkeeper? http://tinyurl.com/f1yaa2
6:38 PM Aug 5th from ALSAA
Guy from Pakistan wants to join us – says he played before at home. Interesting. http://tinyurl.com/fly3r5
6:08 PM Jul 31st from phone
DDM: Not making it barbecue night when the sun finally shines.

Week 12.
12 Aug 09. Flyers 10 - 7 Castleknock Bearcats
ALSAA, 7pm.
Hello. Welcome to PlayTV3's late night waste-your-phone-credit show. We have lots of money to give away tonight. Here's an easy one to start. Look at the Flyers photo here. Who didn't mess something up tonight? Go on, pick up that phone and ring me here in the studio. It's a simple question, and there is one right answer. Look at the photo again. Do you know who it is? Who did not mess up something tonight? Now ring me. Can you see the face in the photo? What square is it in? I have 350 euro to give away if you just dial the number and tell me what's the difference between these two identical pictures. How many ribs in the victory platter? Dial the number and give me your answer. Here's a picture of the money we paid the umpire. There's a ten euro note and some coins. Add them all up. What is the total? Ring me and give me your answer here in the studio. Here's Ben's results. How many points did he get? Can I have more money? 500 euros, how useful would that be to you today. You can win it but you have to ring me. It's very simple. The answer is in this envelope. Flyers scored 8 in one innings by getting that bloke in RCF to run past the ball 8 times in a row. 8 in the third and 1 in the first and Betty's homer in the fifth. How many runs did we get? "Hello? Hi, what's your name?" "Caroline." "What's your answer?" "Ten" "Nooo that's not right but thank you for calling"
Flyers won 10-7. How many runs were scored? Ooh here's a caller "Hello, who is this?" "Sichul. Seventeen runs" "Oooh no it wasn't seventy, hard luck it was a good answer." Think about it and call again. "Next caller, hello" "Hey it's me Sichul again. You deaf? I said seventeen runs" "That's the wrong answer, but a good guess." Look I'll put the prize up to 1000 euros. All you have to do is add the total runs scored in the game, the result was Flyers 10 Bearcats 7. Is there a caller? "Hello, who's calling" "Me – Sichul. Why you hang up? 10 and 7 is 17." "No that's not the answer. Keep trying" "Wha? You crazy. Give me money. I call 5 times and no answer. What going on? I give correct answer. 17. I want prize" Mmm 17 that's not it. Put down the phone, maybe write down the wrong answers and that will help. Then when you have worked out the answer dial the number on your screen and talk to me. There's a lot of money to be won. "Hello who's this?" "Hello my name is Mr Seong" "What's your first name?" "I don't know. Is the answer 17 runs?" Nooo, but it was a very good guess" "You liar I kill you give me money now".
DDM: Tired of being ignored all game Betty's little girl heads to the carpark with her mummy while he is on deck. He's hit his Home Run triple plus overthrow and rounded the bases before they drive by for a final look. Last week she declared her Godfather Tony was better at softball than her dad. Betty later dedicated his 'Home Run' to himself.
Who shudda gone to Specsavers?: We're not allowed say.

Week 13.
19 Aug 09. Diamond Dogs 14 - 22 Flyers
Albert College Park, 7pm.
Hats off to the Flyers. Sore limbs and shiny new blue hats separated the Flyers who went to Cork at the weekend from those who stayed home. The rain stopped bang on time, and there was a bit of unwarranted excitement from their side before the game started. So, knowing Dogs can't live in a vacuum, for four innings there was no talking, cheering, banter, laughing, arguing, even breathing until the game was beyond reach. And there were no more four-legged dogs around to take over the outfield. Then things started happening, like people slipping and sliding and hamstrings getting pulled.
But mostly it was midges.
Then it got dark and that was that.
Debutant of the day: Atif Khan have it.
DDM: Umpire who told us one of our bats was banned 2 weeks ago thinks he's spotted it again. But since it has to go to one of us Adrian gets it for not stretching the hammer.
I say I say I say what do you call someone who tries to rob bases in slowpitch?: Atif.
The build up to the last game...
Darcy Donnelly rejected Adrian Devally's friend request

Fanny Gardyn is looking forward to training on Sunday and Monday

Flyers are safe from relegation – 6 days ago
Paul McGrath likes this
Adrian Forester does not like this

Turtle sent Flyers invitation to join 'Premier'
Invite was rejected

Paola Bourien is buying paint - 10 mins ago
Fanny likes this

Brain Ebbshas created a group, "We can still get promoted"
Packer Monkey does not like this

Tony Burns is looking forward to Germany
Betty likes this

Cora Burke rejected Paul McGrath's friend request

Ken Kilbride sent Brain Ebbs invitation to join 'Dogs'
Invite was rejected

Brian Ebbs is not worried about missing 3 guys this week – 1 day ago
Ben likes this
Paul McGrath likes this

Base Devilshas joined group, "We can still get promoted"


Week 14.
26 Aug 09. Slammers 18 - 17 Flyers
The High School, Rathgor, 7pm.
With Betty on assigment in Erding CoraTV presents an hour-long season finale special... Brrrrm, brrrrm, riff, riff...
"Hello and welcome to this weeks 'Top Softball'. I'm Jerebbsy Clarkson – this episode is going to be hilarious!"
"Hi there, I'm Jadrian May."
"And I'm Allison Hammond. Jadrian May – what have you been up to this week?"
"Thanks Allison Hammond and Jerebbsy Clarkson. Well, this week I tried a new batting technique at the Flyers v Slammers softball game. I find that with precision timing it is possible to hit to right field and get safely to first base. I tried it 5 times, and it worked safely 5 times."
"Hilarious! But Jadrian May – do you not think that if you had bothered to run faster, you could have got safe doubles each time?" "That's not the point, Jerebbsy – the point is precision hitting and getting safely on first base each time. What did you get up to this week?"
"Well this week, I tried my hand at managing the Flyers in this weeks game. Basically I threw all the names in a hat and picked out positions at random. Except I was pitching. It was hilarious! But moving on, Allison Hammond, what did you get up to this week?"
"Well Jerebbsy Clarkson, this week, as a result of your tinkering, I tried playing first base for the Flyers in their softball match this week. Not as easy as it looks, as most of the throws are aimed at someone about 5 ft 9 inches in height, or actually much higher than that. How they ever get any outs there at all is amazing."
"Hilarious! Now we decided to help the Flyers this week, we would send out our tame softball player. Some say that he has won all the softball photo competitions so far, and that he invented the safety base. All we know is he's called "The Stick'. Let's join the action, and see what happened. Jadrian May – you were there."
Yes Jerebbsy. I'm here at the game and it's The Stick up to bat. They're calling his name out, but The Stick is just sitting there in his all white softball gear! This is so funny – he's not going to bat! And apparently he won't go out and field either! He's like an automatic out for the Flyers – they may as well be playing with 9!"
"Hilarious! Moving on, let's see who we have as our 'Player With A Reasonably Priced Glove.' And it's Flyers regular Cora, out in Centerfield today with a glove that we lent her. Who here would like to see Cora's Innings? Let's watch her form. Gets through the first 3 OK. Oooh and she lets one through her legs there in the 4th, but recovers it nicely. Does well through 5 and 6 and now coming into 7, and it's a big hit from Ray and ooooohhh!! She's dropped it!! And Slammers have scored 3 off that to win the game. Hilarious! How do you feel after that, Cora?"
"Em, well, a little bit morto, Jerebbsy."
And so you should! That was hilarious! What else have we been up to this week, Allison Hammond?"
"Well we've been testing the Flyers regular outfielders stress levels this week, with the help of Mary, Fanny and Atif."
"That sounds hilarious! Mary, tell us what you had to do?"
"Well, Jerebbsy, I drove along the M50, played bumper cars, suffered a bit of road rage, got here late, and ended up playing infield for the whole game."
"Hilarious! Fanny what about you?"
"Bien, Jerebbsy, J'etais dans la voiture avec Mary sur le M50 et je n'ai comprende pas le gros mos de Mary! Je me suis effraye! Et ensuite, Je suis joue 3b pour la match."
"Hilarious! This is too much! Atif, what about you?" "Well – they still won't let me steal bases in this game." Hilarious! You all win! Finally, Jadrian May, what have we got for the 'Nice Backstop' today?"
"We've loads today, Clarkson! First up is Lee, for bringing out chocolate for the whole team! That's pretty 'Nice'."
"It certainly is! In fact, we should put him in 'Extra Nice' for taking the gear home too! That's hilarious! What's next?"
"We've got a pretty good catch from Ben at 2 – ran out to catch a short ball to RF and caught it with his back to the play!"
"Hilarious! But he would have got it anyway. Stick him in 'Nice But Would Have Got It Anyway'. What else?"
"We've got the bases here from the match – they were almost car mats when Slammers thought they forgot the them."
"Hilarious! Put them into 'Nasty' for trying to pawn off car mats as bases and for beating the Flyers this week. And what's the last thing we have for the 'Nice Backstop', Allison Hammond?"
"It's Division 1 in 2010! How 'Nice' is that?!"
"Hilarious! Well that's it for the season – see you next year on 'Top Softball'!"
DDM: It should probably go to Cora for dropping that catch. But instead it goes to McGoo for his evil plan of kidnapping Cora's glove under the pretence of "fixing it".
Strange Things to Put in Chocolate Bars #42: Chillies.
Th-Th-That's All Folks: Flyers keep their spot in Div 1 for 2010.

Betty's Fancy Stat: The ESF's European Women's Fastpitch Club Championship Final in Turkey features teams two ex-Flyers are involved with: Lisa McGuigan's London Angels and Bettina Meier's Ruessbuhl Chocolate Heidis. I mean Ruessbuhl Eagles.

Final Standings

2009 ISA Leinster League Division 1
| | | |
| --- | --- | --- |
| Team | W | L |
| Castleknock Bearcats | 11 | 3 |
| Shutout 7 Marlay | 8 | 6 |
| FLYERS | 8 | 6 |
| Usual Suspects | 8 | 6 |
| Base Devils | 8 | 6 |
| Dublin Bay Packers | 7 | 7 |
| Slammers | 6 | 8 |
| Diamond Dogs | 0 | 14 |
Second place decided on head-to-head results between teams tied on 8-6 record.
Second place team enters Premier/Division 1 Playoff. Second bottom team enters Division 1/Division 2 Playoff.
Division 1 Playoffs.

Sluggers 15 - 14 Shutout 7 Marlay
Slammers 19 - 7 Oddsox Black
Shutout 7 Marlay and Slammers retain Division 1 status for 2010.
Castleknock Bearcats promoted and will be replaced by Oddsox Red.
Diamond Dogs relegated and will be replaced by Kiely's Kegs.
Great - two northside teams gone, all our away games will be southside next year.
---
The Cup 2009
Round 1.
Cinco de Mayo 09. Blazzers 16 - 13 Flyers
Kimmage Velodrome, Eamonn Ceannt Park. 7pm plus VAT.
In the early to mid-90s John O'Reilly came out to ALSAA a few times to play for Leftovers and Thirteen-Three. He brought his young son Benjamin to the games. Once, in August 1995, when he was 10, the little boy was sent into the ditch to recover a lost ball. Wandering around he found a super-cool watch with a calculator on it. Nobody there that night owned it so Ben kept it. He put it on and has never taken it off since. Now as he finishes up college he has finally figured out how to work it: he presses the mode button repeatedly and it goes from Time to Date; to Alarm; to a stopwatch called Chrono; to Countdown Timer; to Calculator; to Transform into a Variety of Alien Softball Lifeforms; and then back to Time.
These days Ben 1O'Reilly plays for the Flyers. He's got a girlfriend. She's from Galway. She doesn't have black hair, or blue eyes. He's never seen anything like her. Flyers need a short-stop tonight. With Ben's powers he's the obvious choice. It's windy in Eamonn Ceannt Park. Too windy for the normal pitch says the ump. Yeah, the ump... This guy blued us in ALSAA two weeks ago, now he's umping us out here? Is he following us? He's very interested in checking for jewellery, especially watches. He looks a bit like Paul Peake, who played for Wetsox Green in ALSAA two weeks before that day Ben was 10 and found the calculator watch.
We move to the velodrome to play. Joining Ben-1O'Reilly on the Flyers team are Brian-9 at catcher and Lee-3 and Allison-1 in the outfield. Playing 2B is French girl Fan-Vingt. Missing is her twin Tony-20 who is getting a new car. He used drive the 95D Audi into the carpark at Aldi without turning heads but not any more.
It's a funny shape pitch. Ben-1O'Reilly presses his watch to put on his Diamond-making Head and checks the bases the umpire had laid out. Can't be right, Ben tells him. Ump tells him to take off the watch and give it to him, Ben can't so puts on a glove to cover it. This Ump really wants the watch. Why? Everytime he made a dodgy call all night it was like he was looking at Ben's watch instead of the game. Fourth innings, no outs, bases loaded, Ben 1O'Reilly is batting. Does something with his watch, flexes his Forearms and smashes one foul. We feel a Heatblast. Taps the watch again. Uses his Grey Matter for once and lets an inside pitch go. Evil umpire Palpix was still looking at Ben's wrist instead of the game and calls it strike 2. Ben hits the 8 for accelerate button. Hits it high, very high, to 1B. Pitcher goes to catch it, runners stay on base. Pitcher drops it. Ben is about to reach 1B. Runners have to go. Everybody is shouting. Ball thrown home. Maybe there was an out. Palpix had caused the confusion to try get the watch but now he makes a Stinky Infield Fly call and Ben is out. The call was very late. A delayed call, because the ump has no watch. He bought a calculator watch in the Omni 15 years ago in that jewellers near the fountain, but lost it in ALSAA first time he wore it.
DDM: Adrian. The big, brown leather thing on your hand. It's called a glove. You use it to catch high fly balls. The ball doesn't normally stay on the part between your wrist and elbow when you catch it there. And you scared us lying down like Premiership player when it happened. Thanks Blazzer catcher for the magic spray.

The Plate 2009
Round 1.
Weds, 3 Jun 09. Flyers 17 - 10 Beachers. Att. 2 grownups, 6 kids (only?)
A Dead Sea poll published today has shown a sharp rise in apathy amongst Irish sports fans towards Softball Ireland's Cup and Plate competitions, rating only 2 points higher than Saturday's FA Cup Final in the weekly sports highlights, and behind the Corrig leg of Irish Mountain Racing's 2009 Leinster League series. In Dublin's non-softball community out off 700 people surveyed not 1 person knew it was going on. A member of Sporting Fingal's youth team who trained in ALSAA last week and had seen a game thought there "might have been something on alright" after he was told. A keen soccer fan he was however unable to give the score in the FA Cup final, or name the winning goal scorer. "Did Man United win it?" he guessed, shrugging his shoulders.
Amongst registered softballers only 4% of respondants knew the Flyers had a Plate game this week and only 1 could name the Flyers opponents. Even a girl from The Beachers who was asked on Saturday wasn't aware they were playing on Wednesday. The situation was worse in Limerick. All 140 registered softballers there were asked to predict the winners of Wednesday's SI Plate matches without being told who was involved. 112 said they had never heard of softball and wondered how they were registered for it, 29 of them asking is this the game played indoors with a sponge-ball.
In a follow-up telephone survey last night Flyers Brain Reed could only identify that their opponents wore red and he was 'almost sure' the Flyers had won. Mary Lennon and Cora Burke thought the other pitcher looked like Lee from the Flyers but weren't able to say where The Beachers were from. No-one we contacted knew when the Flyers next game was and if there was going to be training on Sunday or Monday.
Meath-based softball analyst Ian Clarke looked at the survey's findings for us. 'Sports fans reactions countrywide have ranged from surprise to feeling embarrassed for the players to even a small bit of admiration. He quoted Ita Nolan, a Raheny grandmother of three who had said "It's a luvverly evening so it's great for them to be able to go out and do something I suppose". She later expressed surprise when told it was a real sport and an important event in softball's calendar. "I thought they were just messing about," she said, adding "Jaysus that's gas". Unemployed former ad-executive Gary Simmonds from Cork said he actually played softball for a while in the 90's but couldn't remember what team he had played for. "It was in some school near Stillorgan. We played the Oddsox once. I've moved on – maybe these people should too. It can't be good for them, going out year after year after year and they still can't hit a ball lobbed in at them properly".'
With Sportztalk totally ignoring the competition a series of phone calls to members of Softball Ireland's committee today reinforced a general lack of awareness or interest about what was going on. What round of the Plate was being played, what were the results, what teams were playing and questions about how the Plate will progress with 5 teams left in it went unanswered or else we were directed to send an email to competitions.
DDM: We've had to introduce a new feature...
Umpire Paul Peake's 100 craziest interpretations of the Infield Fly Rule 2009: Numbers 19 and 20: 19: Ball rises to a max height of about 10 feet only, catcher Ebbsie runs out a few steps in front of the plate to catch it. Once caught, ump calls Infield Fly. 20: Ball hit high and just behind 3B/SS territory. Runner on 2 takes off, Infield Fly called, ball caught by SS, ball thrown to second base, 2B catches it standing on the base. Runner goes back to second. Time. 'Runner advances at his own risk?' ventures Ebbsie. 'Em I didn't call that'. Runner safe on 2.

Round 2.
Weds, 5 Aug 09. Bye
As opposed to Bye-Bye.
Semi-Final.
Sat, 5 Sep 09. 12.00. Shutout 7 Marlay 14 - 21 Flyers.
Sometimes all you need is ONE BIG INNING.
The Final.
Sat, 5 Sep 09. 14.00. 1Z Blazzers 15 - 13 Flyers.
1Z-Blazzers: 2-5-5-0-0-2-1 15
Flyers: 1-0-3-0-1-2-6 13
After losing to Blazzers first team 16-13 in the first round of the Cup back in May we go one better against their second team, only losing 15-13.
Situation Vacant: Wanted immediately. Experienced welder to re-attach roof to open-topped double-decker bus. Apply ALSAA Sports Complex.

---
Tournaments and Blitzes.
ISA Start of Season Blitz. 18 April 2009, ALSAA.

Flyers Blitz XX. 9 May 2009, ALSAA.
Marlay: Douze trophies. Where have all the Flyers gone? Thanks to our guests: Mick and Deirdre of the Dogs versus the Dogs; Renegade Cliodhna and Andy of Munster versus the 1Z-Blazzers; Eimear of Marlay Braves against Marlay 2; and Packers Steve, Emma and Paddy and BatPak Julie, all guesting for Marlay 2 in turn guesting for us v Munster; Paul McGrath; and various catchers; we were able to fulfil all our group fixtures before sending the Sluggers away to the bar when we were down to 4 people. Shane pitched in the morning, Ebbsie turned up late after ballet, and Caroline came out to see what she is missing this year. Lee, Betty, Allison, Cora and Adrian also turned up. We had 10 teams, Munster and Belfast travelled up and down, but Oddsox and Blazzers had a lie-in and missed the early morning rain. Deirdre from Shutout Marlay got her first hit since one on the opening day of the season - both came in games v the Flyers.
Funny that.

Usual Suspects Blitz. 13 June 2009, St. Marys RFC Terenure.
Cora and Ebbsie went with some Slammers, and spare Dogs and Belfasters but we didn't hear yet how they got on... Must be waiting for the repeats in September to hand in project.
Castleknock Bearcats Blitz. 18 July 2009, St. Brigids GAA Blanchardstown.
Flyers part of the Slayers forget to bring our bases like we promised so it's jumpers for bases. Lisa just arrived from fastpitch in England starts regretting getting out of bed for this. Stephen Walsh starts regretting coming back from Switzerland for this. Ray starts regretting coming over from Castleknock College where he'd just had an arguement with the groundskeeper. Home plate is a big sheet of cardboard, so big it can land on it and still be a strike Allison finds out. Ebbsie takes out his penknife and cuts it into home plate shape. Recession softball, we are one step above using a spud for a ball. Give Beachers/BaseDevils Ray (Tampararily!) but still lose, Sara their 1B hits a big one. Lose to Renegades but not by much. Lose to Belfast/Packers thanks to their RF girl making three catches, last one with our winning run on third, in the rain, and us late for dinner. Half the team disappears. Borrow Shane, Kiwi Dean and Tony from Renegades and Nic is dragged in for our last game v our hosts. Psyche out lefty AOR.
IOST. 15/16 August 2009, Cork.
by #99 (Cora). Dodododo dodododo dododododo "Yello?" "Hello there. We're back. We have a hat for you." "A hat?" "Yeah. Got it for the bowl." "A bowl?" "Yeah we won it." "You won a bowl?" "Yeah. Cork." "You won a bowl made of Cork?" "Well it's actually a cup made of metal." "So you won a cup?" "No - the bowl." "What?" "We got a cup for the bowl" "But what about the hats?" "We won the hats for the bowl." "Why does a bowl need a hat?" "Gas game actually. There was a parrot at shortstop." "A parrot?" "Yeah it was brilliant – flapping his wings running around the bases and all." "The parrot was playing softball?" "Yeah. In the bowl." "The parrot was in a bowl?" "We all were – both teams – except we were actually four teams. So there were five teams in the bowl really." "How big was the bowl?" "The size of a small cup." "And you and five softball teams and a parrot were in it?" "Yeah. And we won it." "But how did you get into it?" "After the Mocking Dogs." "You were mocking dogs?" "No, but there was a dog." "In the bowl?" "Yeah – earlier he kept darting around and annoying us. But we chased him away." "From the bowl?" "No - we didn't see him in the bowl." "Just a parrot?" "Exactly." "Who is this?" "Eh - is that you Betty?" "No - it's Mrs. Betty." "Ah. Tell Betty we're back from playing softball in Cork with the help of a Slammer, a Sinner and some Greystones and we won the bowl competition and we have a baseball cap for him. No need to go into the detail - he'll understand."
The glittering award ceremony follows... DDM. Give a, give a, give a Garmin: After a sterling effort from Adrian & Allison by driving to Limerick instead of Cork, they take the runners up position in our new award category of "As the Flyer Flies". First place goes to "Paola and Fanny for taking the scenic route to Cork via Dungarvan. All I want for Christmas is an 8ft tall First Base: The most overthrows of the tournament deservedly goes to Slammer McGoo, with one throw on target over 9 matches. Scalpel please, nurse: Despite Paola's valiant efforts of stopping the ball with her shin and taking it for the team by being run over at home plate, casualty of the tournament goes to Cora's favourite glove. Dr. McGoo is currently trying to save the patient with his knitting talents. Catch of the Day: Darcy plays a blinder in CF on Saturday skidding in on his knees to catch a short ball to the outfield. And wudda batted 1000 on Sunday if it wasn't for that pesky 3rd base player in the final. Langer award: Self-umping in one game early on. Best Impression of a Traffic Cone: Check out Ebbsie's sunburn between his ankle sock mark and his below-the-knee pants. Player of the Tournament sponsored by Dolmio: Lee gets it for his first ever away tournament. Not for any of his fielding or home runs or anything like that - but for his cooking. That man is a legend in the kitchen. I'd just like to thank... McGoo from the Slammers; Darcy from the Sinners; Laura, Kersten, Helena, Ailieen and Paulie from Greystones. Thanks a mil everyone!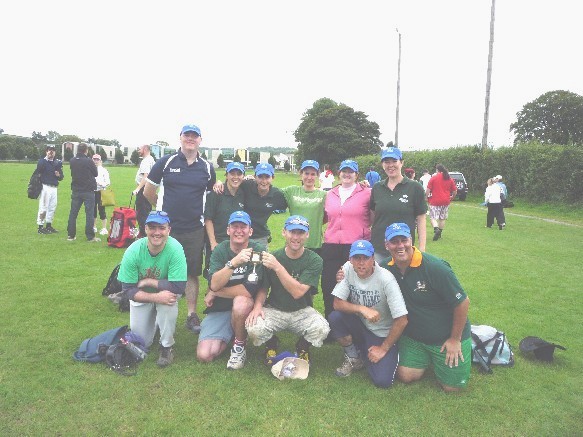 IOST Bowl Winners, Cork 2009 (The sixth worst team there award)
Back L to R: Magoo, Paola, Fanny, Allison, randommer, Cora
Front L to R: Ebbsie, Lee, Adrian, randommer, other randommer aka Darcy.

---
And the rest..